The Blossom TMS™ Therapy System
Make Depression Therapy easy with the Blossom TMS™ Therapy System.
Worry-free coil cooling enables back-to-back treatment sessions, packed in an easy-to-use solution.
Total price:
Price on request
As standard, our systems are ready for shipment after 2-4 weeks. Ask us for the current delivery times for your desired system.
A skilled delivery team will bring your device into your office or hospital. They install the system according to the manufacturer´s specifications.
Certified trainers conduct the training on-site in coordination with your team. They train your team in the technical operation of the device as well as in its use, such as contraindications or possible side effects.
Our experienced team of TMS experts is of course also available to you during the operation of the device with advice and assistance. As our customer, you have exclusive access to our hotline for quick and uncomplicated help with questions.
Description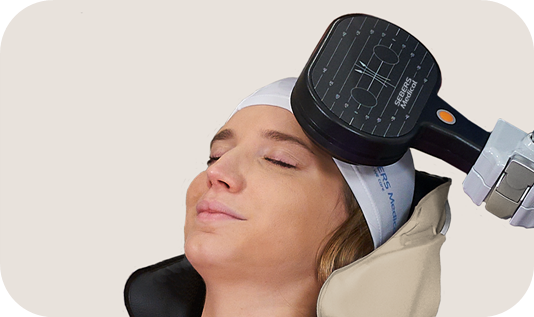 Depression Treatment with Blossom TMS™.
The Blossom TMS™ Therapy System is indicated for the
treatment of Major Depressive Disorder in adult patients, who
have failed to achieve satisfactory improvements from prior
antidepressant medication in the current episode.*
Since 2008, TMS has been FDA-cleared for the treatment of patients with Major Depressive Disorder (MDD).
Controlled clinical trials using TMS in patients with MDD have shown that:1
Approximately half of patients experienced significant improvement in depressive symptoms.
Approximately 1 in 3 patients experienced complete relief of symptoms after TMS therapy.
The Therapy Flow Chart.2
Repetitive Transcranial Magnetic Stimulation (rTMS) is a non-invasive, drug-free treatment option for major depression (MDD) using magnetic pulses targeted to a specific area of the brain.
During the therapy session, the patient sits comfortably in a chair. An electromagnetic coil is placed against the patient's head during the session. The coil stimulates the underlying brain area by generating a temporary magnetic field.
Requirements for Depression Therapy.
To perform multiple stimulations per day, ensure you have a powerful and reliable coil cooling on board. Check for maintenance costs or coil pulse limits, or if coil replacement is necessary to treat multiple patients per day.
Sebers Medical uses worry-free, high-performance cooling technology to ensure economical use of the TMS unit. No swapping of overheated coils or replacement of expired coils required with the Blossom TMS™ Therapy System.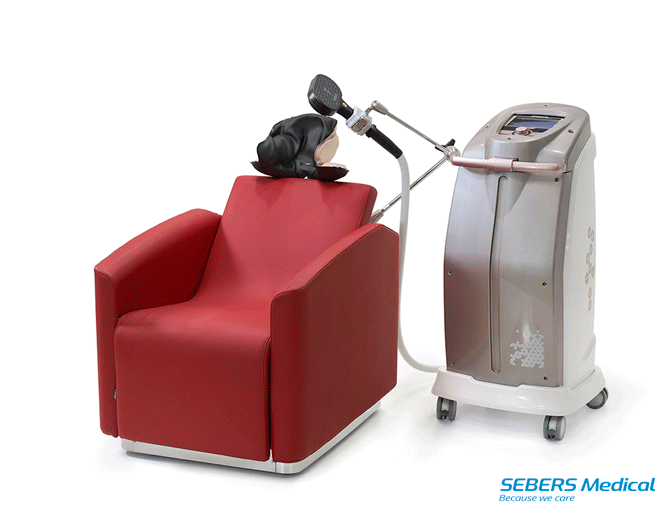 Outstanding Features.
Worry-free TMS solutions are what we demand. Benefit from reliable and easy-to-use high-tech components.
And give your TMS system a personal touch. Adapt the appearance of your Blossom TMS™ Therapy station to your needs.
What is different with Blossom TMS™ Therapy System :
-> Worry-free Coil Cooling
-> Patent-pending HeadNest™ Head Positioning
-> Confidence Inspiring Design
-> Relaxing Treatment Position
-> Multiple colors and leathers available
-> Ergonomic Workspace
-> Easy to Disinfect
[1] Carpenter, L et al. Transcranial Magnetic Stimulation (TMS) for Major Depression: A multisite, naturalistic, observational study of acute treatment outcomes in clinical practice (2012), 29(7):587-596. www.ncbi.nlm.nih.gov/pubmed/22689344
[2] May vary depending on the doctor´s recommendation.