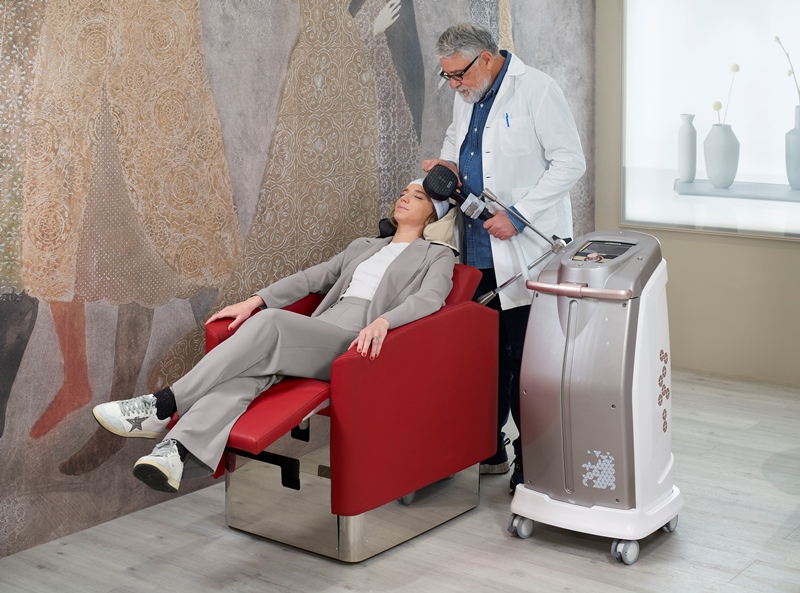 The Blossom TMS™ Therapy System.
High-performance medical products for non-invasive neuromodulation. For use in doctors' offices and hospital environments.
Get outstanding features at affordable prices with our rTMS systems.
-> FDA clearance for treatment of MDD*
-> Worry-free coil cooling
-> No pay-per-use or costly disposables
-> Patent-pending HeadNest™ Head Positioning System
-> Confidence-inspiring design
-> Relaxing air massage chair
-> Ergonomic user design
-> Quick treatment preparation
TMS is a non-invasive, drug-free treatment for major depression using magnetic pulses targeted at a specific location on the brain.
During the therapy session, the patient sits comfortably in a chair. An electromagnetic coil is placed against the patient's head during the session. The coil stimulates the underlying brain area by generating a temporary magnetic field.
This form of therapy is well tolerated and does not cause systemic side effects. It can be performed on an outpatient basis and does not require anesthesia.
FACTS
-> FDA-cleared treatment*
-> Non-invasive
-> Drug-free
-> 18 min to 37 min per treatment session
-> No systemic side effects
-> Outpatient procedure
-> Daily activities possible after treatment
Training needed?